At the November 2022 meeting of the Alliance leadership, it was agreed that future Alliance Institutes focus on programming that is purposeful for who we are as liberal arts institutions in a global context and should provide faculty development in areas of broad interest across the Alliance. The first institute under this model was the Alliance Institute on Oral History in the Liberal Arts, hosted by Antioch College July 25 – 30, 2023. Oral history in the liberal arts focusing on oral history pedagogy to do community-engaged learning, emphasizing developing expertise with the tools, methodology, and pedagogy to incorporate oral history into course projects and faculty and student research.
Based in Antioch College and directed by Professor Brooke Bryan, the Oral History in the Liberal Arts initiative (OHLA) curates 'high impact' undergraduate research frameworks, proven workflows with open source and inexpensive digital tools, and best practices for community-based learning through interview projects.
Through a call for proposals, twelve projects were accepted, and their project leads were invited to attend the workshop. The Institute on Oral History in the Liberal Arts provided hands-on training of tools and tactics for community-based teaching and learning through interviews, archives, and collaborative public facing projects that have an impact and will catalyze teams of faculty to sustain this work on their campuses and in their communities.
OHLA Institute Sessions
The OHLA Institute was designed and facilitated by Brooke Blackmon Bryan, Associate Professor of Writing and Aesthetics at Antioch College and Director of the Oral History in the Liberal Arts initiative.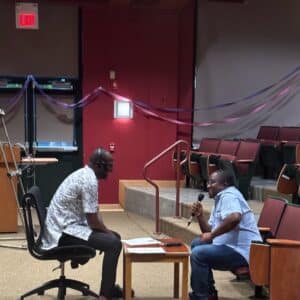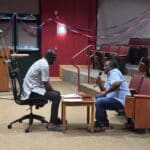 Institute sessions included:
Doing Digital History: An Introduction to Method
Project Planning: Developing Project Statements, Consent Forms, Public-facing Project Pages & Outreach Plans
The Art of the Interview: A Tactical Approach to an Abbreviated Life Story Methodology
Field Recording Basics for Interviewers: Getting Good Sound
After the Interview— Workflows for Data Management & Scholarly Access
After the Interview— Audio Editing

Meriem Sahli (AUI) and Roger Adkins (Earlham)

Indexing Interviews in OHMS
Project Statement Development
WordPress Bootcamp
Emerging Project Roundtable – Project Report Out
Project Pair Shuffle & Recording
Looking Forward to Community-Based Teaching and Learning— Joining the OHLA Community of Practice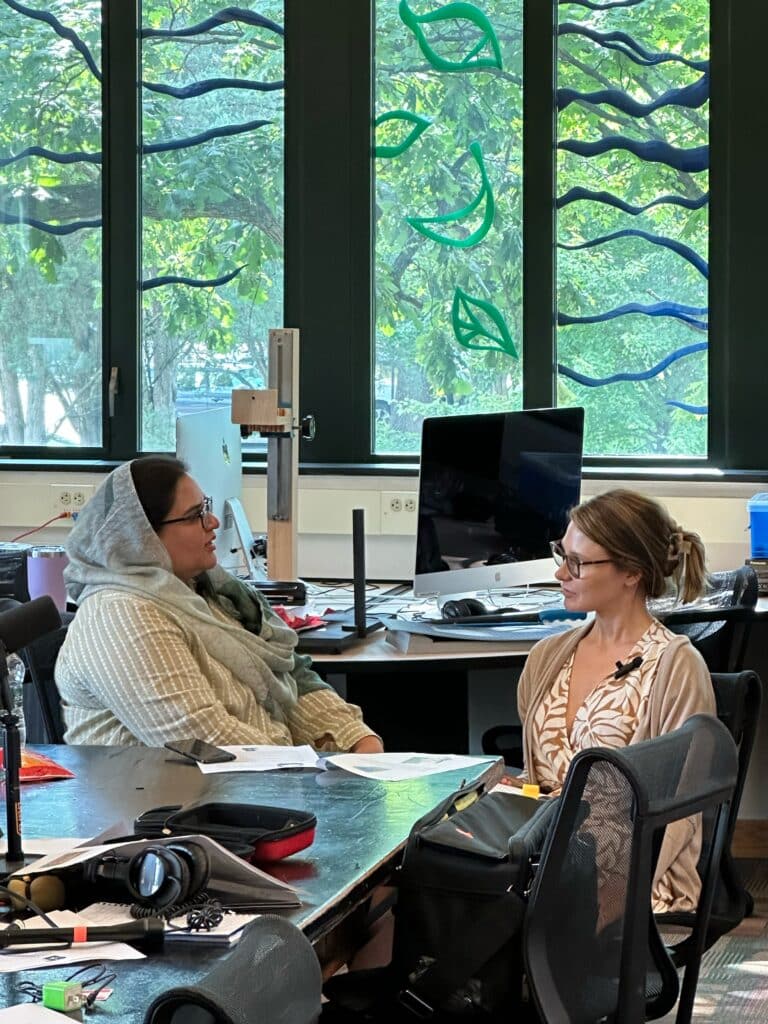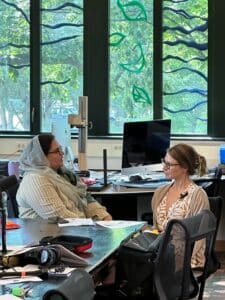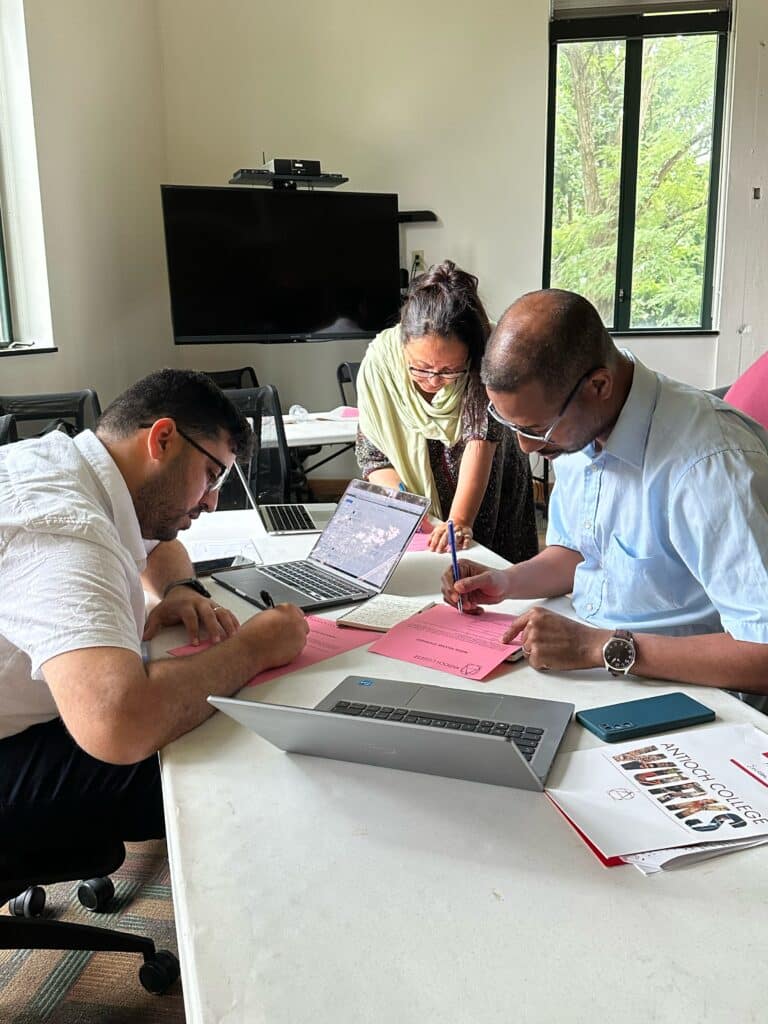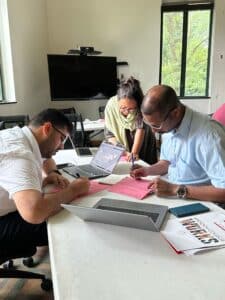 OHLA 2023-24 Proposals
Exploring International Teachers' Experiences in a Liberal Arts College: A Moroccan Example, Meriem Sahli, Al Akhawayn University and Roger Adkins, Earlham College
Re-telling the Everyday Voices of Peace, Peter Genger, American University of Nigeria
Digital Recording of Nomadic Life, Jaouad Elbakili and Hamdi Echkaou, Al Akhawayn University
State, Rescripted: Embodied and Affective Narratives in the Construction of Ivorian Statehood, Anna Kensicki, International University of Grand-Bassam
Re-imagining Linguistic Diversity of Local Languages of Pakistan, Adeel Khalid, Forman Christian College (A Chartered University)
Oral History of the Somali-Bantu Community in Pittsburgh Pennsylvania, Brian Miller, Allegheny College
Sangha: Cultivating Relational Mindfulness Practices to Foster Well-Being in a Multi-Sectarian Community, Mindith Rahmat, Antioch College
Family Support in Profession! A Study of Professional Female Struggle in Pakistan, Farheen Saeed, Forman Christian College (A Chartered University)
Community-Engaged Youth Democratization Teaching and Learning, Jean Tompihe, International University of Grand-Bassam
Human-Animal Relationships in a French Rural Community, David Tresilian, American University of Paris
Black Experiences of Gentrification in Delaware, OH, Ashley Toenjes, Ohio Wesleyan University
Examining the Linguistic Prejudice and Representation of Women in sampled proverbs in Traditional Moroccan communities, Awatif Boudihaj and Meriem Sahli, Al Akhawayn University
Project Pairings
OHLA projects with overlapping interests were grouped, and the project leads in each group were asked to meet synchronously and asynchronously to build community, provide support, and share expertise. Over the course of the 2023-24 academic year, each group is asked to:
Engage in inter-institutional scholarly collaboration through the next academic year, relying on each other for insight and guidance in the best practices of planning their community partnerships, securing the informed consent of participant interviewees, and developing their full syllabi.
Work to engage their students together in some way around the project themes or the best practices of oral history work, either synchronously in a shared course meeting or asynchronously through other means.
Support each other as a community of practice in learning and sustaining the use of digital tools for scholarship including Hindenburg, OHMS, and WordPress.
Individual projects will utilize each other's expertise through paired collaborations, OHLA resources in published form at info and on the internal participant drives, as well as Brooke's support to build their final project exhibits and share back to the communities from whom the stories were gathered. 
Project Pairs
Jean Tompihe, Jaouad Elbakili and Hamdi Echkaou: students will explore the political representation of citizenship for nomads in Morocco and Ivory Coast.
Farheen Saeed, Anna Kensicki, and Brian Miller: students will explore notions of belonging and the other.
Adeel Khalid and Jean Tompihe: student training in OHMS and the indexing process.
Awatif Boudihaj, Ashley Toenjes, David Tresilian: place and narrative.
Meriem Sahli and Roger Adkins: folklore and oral narrative.